The American people love First Lady Melania Trump. Especially in comparison to former First Lady Michelle Obama. While quiet, she is classy and dignified and they love that her initiatives focus on something she is passionate about… children. Recently she attended a ceremony to give honors to military wives and moms. What she did while there blew everyone out of the water.
The Patriot Journal reported,
"Her outfits often make international headlines for the messages they convey. She and her incredible stylist team make every effort to craft the perfect look for any occasion. In Saudi Arabia for example, the newspapers celebrated Melania's fashion choices during her trip. Even though she refused to wear a head covering, as women in Saudi Arabia are required to do, the newspapers there called her look, "classy and conservative."
Our First Lady honors those she comes in contact with, by being sensitive in the manner in which she dresses. Her clothes are often a sign of respect as well, which is even more important. For instance, her look at a recent event to celebrate military mothers and spouses showed how much she honors and respects America and those who help protect her (and others).
Melania Trump went for a classic look Wednesday when she showed up in a blue coat dress at an event celebrating military mothers and spouses. The first lady paired the double-breasted navy blue dress with a matching navy patent leather belt.  'Mother's Day, which is this Sunday, is celebrated just one time per year. I don't know about all of you, but I think mothers should be celebrated each and every day,' Trump shared with the group, thanking them for the sacrifice they make every day for our country."Her dress wasn't merely stunning, it was a respectful nod to the Dress Blues that service members of the Navy wear. The contrast between this event and events the Obama's held is striking. The former First Couple only hosted opulent parties with nothing but A-listers and shunned the common man. The Trumps on the other hand host military moms and spouses and shun the A-listers. And yet the left still can't figure out why they lost. Their condescending treatment of middle America is no different than their condescending treatment towards the First Family.
In fact, high profile liberal designers like Marc Jacobs and Tom Ford joined a list of fashion gurus who said they'd refuse to dress Melania Trump when her husband was elected. Ford reached new levels of pettiness when he stated that he didn't want to style Melania because, "I'm a Democrat, and voted for Hillary, and [am] very sad and disappointed that she's not in office." Considering some of the hideous gowns Tom Ford designed for Michelle Obama, Americans should be thankful he's staying away from Melania. In fact, the First Lady is becoming a style icon just fine without any help from the left. And her dedication to honor those who are important to this country comes through loud and clear!"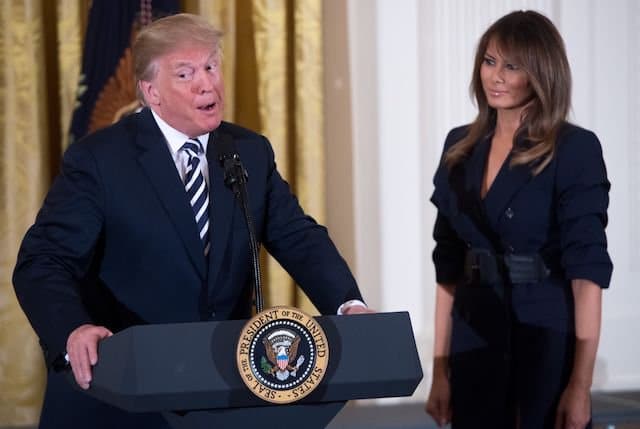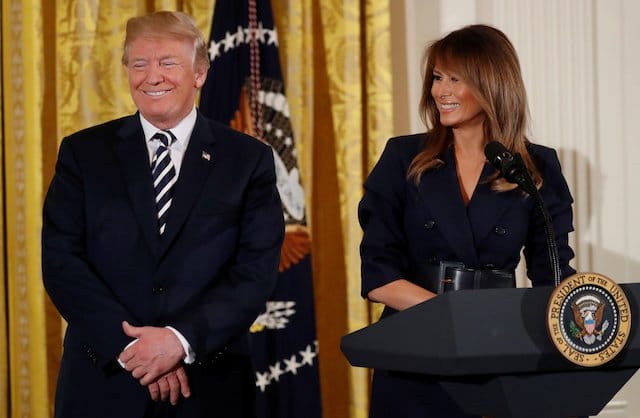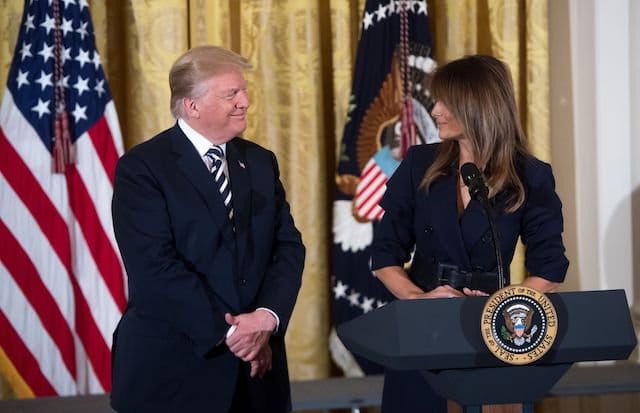 President Trump, his family, his wife the First Lady Melania Trump, and the administration have made it their mission to make military families front and center of the work that they do. While military families were often ignored in the past they certainly are not anymore. Their is a never ending amount of events that the current administration hosts to honor military families and the sacrifice they make.
During the event the President discussed the hardships that military spouses deal with as a result of long deployments. Emphasizing that they often take on more than they bargained for when their families are uprooted and shipped half way around the world. President Trump made sure they were aware of his commitment to all families that serve in the armed forces. Which is why he made sure to mention that Congress with his help implemented the biggest pay raise the military has seen in a very long time.
The U.S. Army said in a press release,
""[My] administration is totally committed to every family that serves in the United States armed forces," Trump said. "Earlier this year, I was proud to sign that big pay raise … and I am proud of it."  Noting that the White House is taking action to expand employment opportunities for military spouses, the president said service members' spouses would be given "treatment like never before," noting that the unemployment rate among military spouses is more than 90 percent.
But that is going to change, he added. "[For] a long time, military spouses have already shown the utmost devotion to our nation, and we want to show you our devotion in return," the president said. "America owes a debt of gratitude to our military spouses — we can never repay you for all that you do." Following his remarks, Trump signed an executive order addressing military spouse unemployment by providing greater opportunities for military spouses to be considered for federal competitive service positions.
The order holds agencies accountable for increasing their use of the noncompetitive hiring authority for military spouses, and American businesses across the country are also encouraged to expand job opportunities for military spouses, the president said."
Share if you believe that President Trump loves the American people
Share if you believe the President Trump and the First Lady are doing right by military families